Fire Surround Size Guide
Size Chart, Prestige Fire Surrounds
| | | | | | | | |
| --- | --- | --- | --- | --- | --- | --- | --- |
| Fire Surround Design | A | B | C | D | E | F | Rebate (See Below) |
| Timeless | 48" | 47" | 33" | 35" | 46½" | 9" | 3" - 1" Adjustable |
| Kensington | 52" | 43" | 35" | 35" | 47" | 9½" | 3" - 1" Adjustable |
| Lorna | 52" | 43" | 35" | 35" | 47" | 9½" | 3" - 1" Adjustable |
| Shaker | 54" | 41½" | 34½" | 32½" | 47½" | 8" | 3" - 1" Adjustable |
| Sherwood | 54" | 46½" | 36" | 36" | 49½" | 8" | 3" - 1" Adjustable |
| Twyford | 53" | 44" | 30½" | 31" | 49" | 8" | 1" (Can be made with deeper Rebate) |
| Camden ( 2 Sizes) | 52"/48" | 43"/42" | 35"/32" | 35"/34" | 47"/44" | 8" | 3" - 1" Adjustable |
| Newark | 52" | 42½" | 35" | 35" | 47" | 9" | 3" - 1" Adjustable |
| Worcester | 54" | 45" | 36" | 36" | 49" | 8" | 3" - 1" Adjustable |
| Roundel | 54" | 46½" | 36" | 36" | 51" | 8" | 3" - 1" Adjustable |
| Boxster | 52" | 44½" | 35" | 35" | 52" | 7" | 3" - 1" Adjustable |
| Maltby | 54" | 45½" | 36" | 36" | 50" | 8" | 3" - 1" Adjustable |
| Hampshire | 54" | 44" | 36" | 36" | 49" | 8" | 3" - 1" Adjustable |
| Grand Corbel | 54" | 44" | 36" | 36" | 49" | 8" | 3" - 1" Adjustable |
| Bedford | 54" | 45" | 36" | 36" | 49½" | 9" | 3" - 1" Adjustable |
| Eclipse | 52" | 43½" | 35" | 35" | 47" | 9" | 3" - 1" Adjustable |
| Orion Arch | 52" | 44" | 35" | 35" | 47" | 9" | 3" - 1" Adjustable |
| Alexandria | 52" | 43½" | 35" | 35" | 52" | 5" | 3" - 1" Adjustable |
| Diamond | 49" | 43" | 35" | 35" | 46" | 6½" | 3" - 1" Adjustable |
| Victorian Corbel | 54" | 45" | 36" | 36" | 51½" | 9" | 3" - 1" Adjustable |
| Windsor | 54" | 43" | 35" | 35" | 49½" | 8" | 3" - 1" Adjustable |
| Chelsea | 52" | 44½" | 35" | 35" | 48½" | 8" | 3" - 1" Adjustable |
| Minster | 54" | 45" | 36" | 36" | 48" | 8" | 3" - 1" Adjustable |
| Full Pillar | 58" | 47½" | 35" | 35" | 52" | 12" | 3" - 1" Adjustable |
| Milan | 54" | 43½" | 34" | 34" | 51" | 8" | 3" - 1" Adjustable |
| Victorian | 54" | 44" | 35" | 35" | 50½" | 9" | 3" - 1" Adjustable |
| Waterside | 54" | 44½" | 35" | 35" | 49" | 8" | 3" - 1" Adjustable |
| Lincoln | 51" | 44" | 35" | 35" | 51" | 4½" | 3" - 1" Adjustable |
| Nottingham | 54" | 43.5" | 34" | 34" | 50" | 8" | 3" - 1" Adjustable |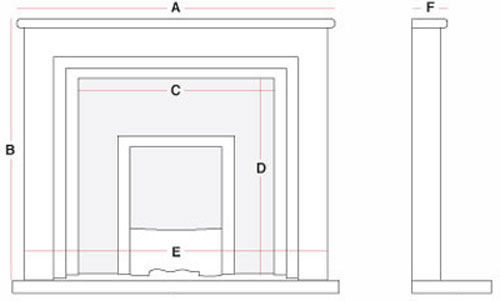 Fire Surround Rebate
How far the interior protrudes from the plaster or brickwork; If Marble insert for example, measure the distance from the wall to the front edge of the Marble, this will give us the measurement of the Fire Surround Rebate required.
Fire surrounds are available made to your requirements normally at no extra cost.
For further help on sizes please Telephone: 0115 9422425 We are Happy to Help.